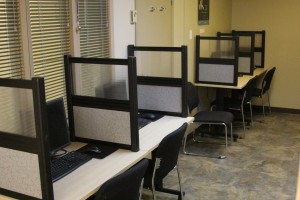 Our Community Computer Lab provides four computer workstations and available printers that are accessible on a drop-in basis to enable community members to check e-mail, access the internet, search for employment, develop résumés, prepare cover letters, and apply for jobs. Staff and volunteers are available to help individuals learn basic computer skills and assist with computer-related problems.
Two workstations and a printer are available during all business hours in the Employment Services/Outreach area.
We acknowledge the financial assistance of the Province of British Columbia.